Do you remember the days when we spent hours grinding the coffee, brewing it and serving it hot? Well those days have long passed us by and thanks to modern technology we can now enjoy the amazing gift of automated coffee makers. These machines are simply amazing as they make a cup of instant, delectable and caffeine loaded energy boost in almost no time at all. I know I couldn't survive a day without my coffee maker and I'm sure a lot of you think the same. This makes me wonder, what are the best coffee makers in the world? Below is a list of 5 coffee makers that you'd want to get my hands on.
Ultimate best coffee makers guide by type
Well now that I have acquainted you with my pick of the best 5 coffee makers in the world, it's time to dive into a detailed analysis of what took Hamilton Beach, Bodum Chambord and Keurig to the top 3 of this list.
Best coffee makers reviews
This piece of beauty over here has a rating of 5 stars on Amazon which is a good enough reason for me and most people to purchase it. However, I do understand that most of you wouldn't buy into this remarkable product unless I shed some light on its outstanding features. Its aesthetic beauty will catch you by surprise, you can see the polished wood collar with leather tie that surrounds this breath-taking machine. It's so beautiful that it has been selected by the Illinois Institute of Technology as one of the 100 best designed products of modern times.
To get this pretty pot rolling, all you have to do is add in some filtered water, freshly ground home roasted beans and viola! With these basic ingredients, the Chemex will provide you with the finest cup of coffee you may ever taste. Despite the fact that this Chemex brews the best coffee you'll ever drink, it costs less than just about anything. As a matter of fact, it has a relatively low price of $42.95. You are probably already spending more money than this every month at Starbucks.

Looking for a single cup coffee maker? Then this fantastic product from Hamilton Beach is definitely worth the price tag of $39.79. Visually speaking, this coffee maker is as stylish as it gets with a glossy and durable stain less steel construction, a quintessential trait of its manufacturers.
The basket for the coffee is nice and deep and easy to fill. Filling up the water reservoir is also quite hassle free. It holds an ample 14 oz. of water – you get out what you put in so playing with the measurement and grind of your favorite coffee takes some perfecting. The brewer starts immediately, the light goes out signalling it has finished brewing. It is a little faster than the mini version of the more popular single cupper. Not to mention, the coffee comes out hot every single time.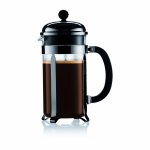 Do you often find yourself wondering how much money you would have saved if you had your own French press coffeemaker at home instead of paying over the top for a bland cup at some coffee house that claims to be brew the best French coffee? Well if you seek answers to that question, why not be the proud owner of Bodum Chambord Coffee Press. The Best French Press Coffeemaker in the market today.
This machine is the best way to brew an excellent cup of coffee in just 4 minutes. It's 3 piece stainless steel filter ensures a quality brew every single time. Items that have anything to do with the word "French" are usually on the expensive side but not this one. You can avail this wonderful coffee maker at low price of just $38.95.
Here are some tips for using this machine. Some tips for getting the most out of this machine. Always use coarsely ground coffee. A 9 second burst with a decent grinder works best. You'll have to experiment. Gently shake the grinder while using it. This results in a more even grind. With this approach you will have very little sediment in the final cup.
Allow the boiled water to cool for a minute before adding to the grounds. This seems to produce a less bitter cup. Finally, stir the grounds and water with a chopstick or similar. Let the coffee brew, then press the plunger down slowly.
Conclusion
There you have it, five of the very best coffee makers for your kitchen or office. Next time you have to sit with a friend, family member or colleague over a cup of coffee, you could do that in the comfort of your own home or your office room.