If you're an outdoor enthusiast or just a survivalist that's preparing for the worst while expecting the best, one of the "must have" tools to own in your paraphernalia is a survival knife. Nonetheless if you have to choose the best tool for the job (survival that is), what can be better than military survival knives?
Why military survival knives?
You must be aware of the term "military grade" stuff, which means that the respective object (a laptop, a watch or a knife for that matter) complies with very strict requirements: it has been put to rigorous testing and it's certified to withstand harsh conditions. Basically, what the military uses is usually the best there is, whatever we're talking about. And obviously, the same applies to knives : military survival knives are the best, end of story.
Now, the best military knives out there must be able to perform a multitude of tasks, including hammering, signaling, prepping food, shelter, first aid, dressing game/hunting, not to mention basic things like cutting, slicing or carving.
Before going into a shopping frenzy, here are the key-points to look for in a top-notch military survival knife:
– Firstly, go for a fixed blade knife; folders are cool, but they are more fragile. Due to their design (they are made from 2 different pieces) folders are not the best choice when it comes to performing heavy duty tasks.
– Secondly, a survival knife worthy of its name is a full tang design, meaning that the blade and the handle are made from one unending piece of steel, making it virtually unbreakable.
– Thirdly, the handle must be made from a non slippery material, it must be very comfortable to use even under stressful conditions and should have a finger guard (it prevents slipping and accidents), a lanyard hole (you'll have control over your knife i.e. it will prevent it from getting lost) and a solid pommel (this helps when hammering with the knife).
– The blade must be solid and stocky, even fat, at least 4 inches long, made of high quality steel and fairly easy to sharpen in the field. A partially serrated blade is more versatile than a plain edge and it comes with the advantage of being capable of cutting stuff even when it's dull.
Two top military survival knives
1. The KA-BAR Becker BK2 Companion Fixed Blade Knife is made by a company that has a long tradition in supplying the US Marine Corps, hence they know a thing or two about survival knives, don't you think? The knife is designed by a well known survivalist, Ethan Becker and it is very reasonably priced without sacrificing quality. The BK2 comes with a full tang 5.25" long blade, 1/4" thick, made of Cro-Van steel and with a Grivory handle that provides you with a balanced and secure grip. This is an indestructible knife yet tractable. < Click here for customers reviews and pricing >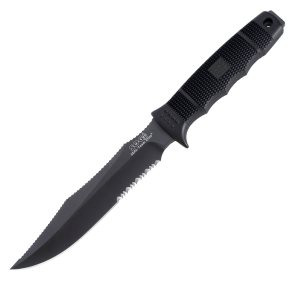 2. My second choice would be the SOG S37-K Seal Team Knife. As the name suggests, this military survival knife was put to rigorous testing before entering the market (blade and tip breaking limits, sharpness etc). Made by a world renowned manufacturer, the S37 comes with a 7 inch partially serrated (full tang) blade, made of AUS 8A stainless steel and has a glass reinforced nylon handle, very ergonomic and textured for excellent grip. This baby is used by the Navy SEALs, and if that's not an argument for you, I don't know what it is. The knife is resistant to extreme heat, salt water exposure, it's very rugged and bottom line, it's one of the finest military survival knives out there. < Click here for customers reviews and pricing >