When it comes to survival knives, people are generally thinking about Bear Grylls. Well, maybe those people who never heard about Rambo. For me, the knife from Rambo-First Blood is the best survival knife period. I mean, come on, it saved Rambo when he was in a tight spot, right? Let's begin with the basics.
What is a Rambo survival knife?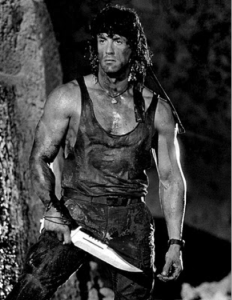 Well, as the name suggests, this type of knife is basically a multi-tool, manufactured for the sole purpose of helping you to survive in a wilderness environment, when an emergency situation occurs and you lost your main equipment.
Rambo's survival knife was based on a classic design from an aviator knife used in World War 2 by pilots in their emergency kits. So, the Rambo survival s knife is based on a true story folks. According to sharpenedknife.com, such a knife is optimized for both battle and wilderness challenges.
Take a look at this baby, sexy, isn't it? The Rambo survival knife is much larger than the original aviator design, but it is based on the same concept.
The serrated blade is excellent for chopping wood and stuff like that, the hollow aluminum handle harbors a mini survival kit, which contains among other things a precision compass, needles, hooks and matches and so on, you got the picture.
Which brings me to the next phase in choosing the best Rambo survival knife: what type of knife do you want? Here are some things to take into consideration:
The best survival knives are the fixed blade ones. The fixed blade knife is very tough and perfect for heavy duty jobs , hence you should choose a fixed blade Rambo survival knife and also to pay attention to a few other things.
First, the blade must be a full tang design, meaning that the steel of the blade and the handle are made from the same piece of metal. Also, the handle must be very comfortable in your hand and the material used in the handle must be rubbery-like, so it won't be slippery when wet. If you get a solid pommel on the end of the handle, that's a big plus; a pommel is useful for heavy duty jobs, such as batoning, chopping wood or hammering with the knife.
You should also pay attention to the length and thickness of the blade. A high quality Rambo survival knife has a fat blade, when compared to a regular knife. This means it's a rock solid blade, it will resist to wear and tear and it will not break easily.
Finally, the knife must be easy to sharpen and hone, i.e. you'll have to choose carefully the profile of the edge and also the type/quality of steel the knife is made of.
My favorites Rambo survival knives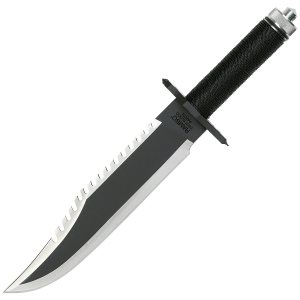 RAMBO II MC-RB2 First Blood Part II Survival Knife is almost identical (actually it's officially licensed) to the original Rambo survival knife. The knife has a heavy duty full tang design, with a huge-10 inches long stainless steel blade which has 2 rows of saw teeth on its spine; the package is completed by a cord wrapped handle featuring a finger guard with 2 lashing holes and a survival kit (matches, compass, razor, sinkers, hook, fish line). <<<< Click here for customers reviews and pricing>>>>
My next choice is the 1st Blood 25th Ann, another heavy bladed survival knife, but this time with a 9 inches long/ narrower blade and a matte satin finish. The double row of saw teeth is still there on the spine of the blade, the handle is relatively the same, wrapped in green nylon cord (the first was black), featuring a pommel/butt cap as an impact weapon and a precision compass on the interior of the pommel. <<< Click here for customers reviews and pricing>>>