Tactical knives are maybe the most popular and certainly most carried knives in the world. They have a "cool" reputation, they look bad-ass (most of them are black from head to toe for obvious reasons) and they are (or should be) quite different from regular knives.
The Best Tactical Knife is defined by its specific purpose
A tactical knife is designed with a very specific list of tasks in mind. There is no "one size fits all" tactical knife. It all depends on its purpose.
Everything starts with the design and I can say that a great tactical knife is a "residue" of good design, adequate materials and perfect workmanship, altogether to serve a specific purpose. When you're choosing the best tactical knife, it all depends on your specific needs, this will determine what type of knife you'll end up buying. A tactical knife can be anything from an entry tool to an emergency rescue tool, it all gravitates around your "job" requirements, don't you think?
When it comes to choosing an everyday carry (EDC) tactical knife it's not the same thing if you're an undercover agent or a SWAT officer. Each one of them operates in very different environments and if they have to choose the best tactical knife out there, the end result will be very different, both in terms of size and (especially) design; people use tactical knives for various tasks and they have different requirements, so one must choose carefully the proper "tool" for the job.
All things considered, let's look at my 5 top tactical knives then we will checkout the must have features of a great tactical knife.
My Top 5 Tactical Knives, both folding/fixed blade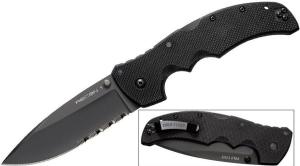 #1. The Cold Steel Recon 1 is arguably one of the best folding tactical knives out there and my personal favorite. I actually own one as an EDC for years and it never let me down. The Recon 1 comes in various shapes and blade designs. I would recommend a partially serrated tanto/drop point blade (mine is a tanto, just like the one in the picture, it's a matter of personal taste).
What makes the Recon 1 one of the best choices for a folding tactical knife? Well, its fat/thick/razor sharp 4 inches long blade and its textured G10 handle (which offers the best grip EVER, it's almost "sticky" if you know what I mean) along with maybe the best locking mechanism on the market today. It's built like a German car and despite its size, it is relatively light and will fits your hand like a glove. Oh, and I almost forgot: the Recon 1 comes with a very reasonable price tag for what it offers! < Click here for costumers reviews and price >
#2. KA-BAR Fighting/Utility Serrated Edge Knife is one of my all time favourite fixed blade tactical knives. What makes the KA-BAR one of the best tactical knife out there is its legendary design, this knife was proven in battle since WW2. This KA-BAR (a version of it actually) was carried by the US military and it was highly praised by our GI's. The knife is manufactured using high quality materials (1095 Cro-Van steel for the blade and a Kraton G handle) and with impeccable workmanship.
A strong feature in this fixed blade KA-BAR tactical knife is its full tang partially serrated blade and the big, strong and immensely grippy handle that feels very comfy in your hand. The handle also comes with a solid pommel, which is another main selling point if you need the knife for heavy duty jobs. I must say : this baby is THE tactical knife to choose for heavy duty tasks, having a very decent price tag and as a bonus point, it's made in the USA. < Click here for customers reviews and pricing >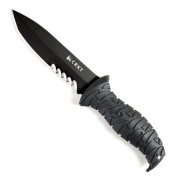 #3. The CRKT Ultima is another fixed blade tactical knife I would highly recommend, a knife designed by Michael Martinez and made in the USA by a very reputable manufacturer. This tactical knife has all the features that make for an awesome companion: the full tang 4,95 inches long blade is made of 1.4116 stainless steel and comes with a black/anti glare coating. You can see that the tanto-blade is partially serrated and the handle has a peculiar design, which confers its excellent grip in any imaginable scenario. The handle is black, made of glass filled nylon and the knife comes razor sharp out of the box, being reasonably easy to re-sharpen if necessary. < Click here for customers reviews and pricing >
#4. Ka-Bar 2-3051-6 Mule Field Folder Knife is yet another relatively big, heavy and sturdy folding tactical knife with a thick, partially serrated blade. This KA-BAR also has a very tough locking mechanism that will never fail you under stress (maybe THE feature to have in all tactical folder) and the blade is made of AUS 8 A stainless steel. The Mule comes with a grivory handle which offers a secure and ergonomic grip in any conditions. Even if it weighs quite a lot and it's relatively big for a folder, this is a heavy duty tactical folding knife, if there is such a thing. Just like the Recon 1, when opened it feels more like a fixed blade rather than a folder and it is capable of withstanding tons of punishment without breaking. < Click here for customers reviews and pricing >
#5. Fallkniven Knives PRK Part Serrated. PRK stands for Police Rescue Knife and it is a great looking knife, to say the least. I am a huge fan of tanto blades and the PRK is a dream comes true for "groupies", myself included. The PRK can be regarded as the best fixed blade tactical knife out there in terms of design and size, being almost an EDC , due to its relatively small dimensions. Also, it is the end result of years of development by the Swedish company and it's a very reliable tool to have on you in any imaginable situation. Even if it is relatively small for a fixed blade, this baby has all the features that make for an awesome tactical knife.
PRK has a black coated/partially serrated blade only 3.7 inches long and comes with a very grippy and comfortable handle. The blade is made of laminated CoS cobalt specialty steel and the black finish is actually a type of ceramic, much better than the usual teflon/titanium oxide coatings you can find on cheaper knives. The handle is textured and features a protruding tang at its base (like a pommel, making it ideal for breaking windows and the like).
Made of high end materials by one of the world's most reputable knife manufacturers, this tactical knife is almost perfect in every way and it's ideal for an EDC. Even if it's a bit pricey, it's worth every penny in the long run. Truth be told, the little PRK is as tough as coffin nails and looks phenomenal! < Click here for customers reviews and pricing >
Qualities to Look For in The Best Tactical Knife 
As previously mentioned, the design of a tactical knife follows its purpose very closely, it actually derives from that. However, ergonomics are a crucial aspect when it comes to choosing the best tactical knife, i.e. the knife should be very comfortable both to hold (especially when you're using it under stressful conditions) and carry around.
The handle must be "smooth", without pinching your hand in a tight grip, without sharp corners and to feel the same (comfy that is) when held in a forward grip or in a reverse grip. Basically, you must feel that the knife was "custom" made for your hands, that's the goal.
Another aspect to keep in mind when choosing the best tactical knife is its size (the size must be adequate to the tasks required from the knife) but you must remember that we're talking here about an everyday carry. Hence, a 20 inch monster weighing 3 pounds is not the droid you're looking for.
My recommendation for an everyday carry is a folding tactical knife with a ~4 inches long blade.

The materials used in the blade and in the handle alike must be of high quality, i.e. high end stainless steel for the blade (it's the best choice for a tactical knife) and G10/Titanium/Aluminum for the handle.
As a general rule, the handle must not crack/rot/shrink/absorb moisture, oil, gasoline or whatever. A well built/designed metal handle with a textured surface for better grip will last you for a life time. I would recommend to stay away from cheap folders made in China that cost $5, but also don't get lured by the "super steels", which are over hyped and they are hugely expensive for what they're actually offering.Go for reputable manufacturers (see the list below for some of the best tactical knives out there) and you'll be all right.
Just remember that design is a core element of the best tactical knives. A bad design using high-end materials will not do the trick.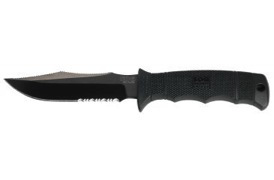 In terms of blade design, a (at least partially) serrated blade is recommendable for a tactical knife, because it will always cut even if it gets dull and it's excellent when it comes to cutting seat belts, cable and the like. The thicker the blade, the better.
I will also advise you to stay away from cheap foreign made folders, they have crappy locking mechanisms and they will fail very quickly under stress (chopping your finger eventually in the process).
A solid locking mechanism on a folding tactical knife is a MUST HAVE. Which brings me to the next phase in choosing the best tactical knife:
What type of knife do you want?
In terms of endurance and reliability, fixed blades are better but some like folders more when it comes to choosing the best tactical knife.
Folders have obvious advantages : they are more compact, easy to carry, they offer more blade real estate for their size. It all depends on the purpose of the knife. If you require a tactical knife that must cut through bone like butter, chop through doors or whatever, you should choose a fixed blade. However, the vast majority of cops/military men I know use as an EDC a folding knife.
Let me close with a quote I hold dear to my heart :
"When Your Life Depends on Your Gear . . . Get the Gear Your Life Can Depend On."