If you stumbled upon this article, you must have a passion for knives, like yours truly. And choosing the best survival knife is not an easy choice to make; there are so many options out there, sometimes you can't even decide where to start from.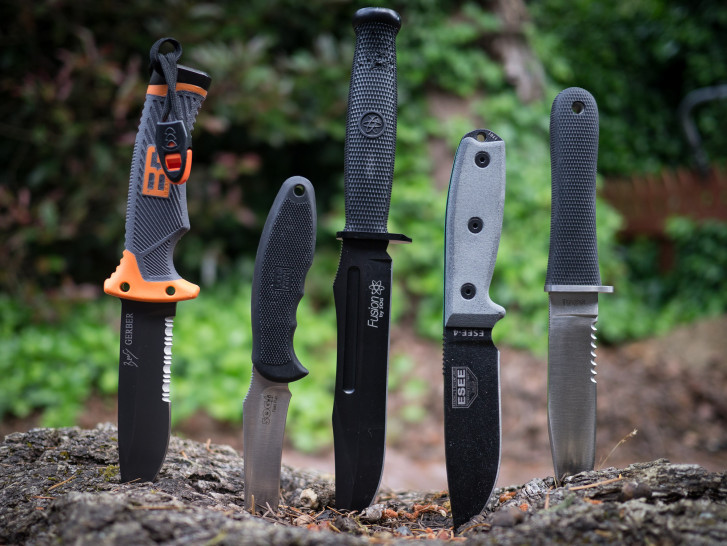 Let's begin with the basics: what is a survival knife? What is the principle of the thing?
Well, as the name suggests, this type of knife is designed for saving lives and it's built for the sole purpose of helping you to survive in a wilderness environment, when an emergency situation occurs and you've lost your main equipment.
An adequate survival knife can be used for lots of things, ranging from cutting stuff to chopping wood, from dressing game to digging. As you can see, the best survival knife must be able to perform in any situation with flying colors, being more than a regular knife, but an all-rounder tool !
The Best Survival Knife has a Fixed Blade
One should keep in mind that the best survival knives out there are the fixed blade ones. They have the only disadvantage of being too big for fitting in your pocket (they're not like your regular EDC), but they are the best option when it comes to a wilderness survival scenario. A fixed blade survival knife is usually built like a tank and it can take any amount of punishment you can throw at it.
First I show my 5 best pick then I will give you more detail on how to choose a survival knife.
My Top 5 Best Survival Knives
To give you a hint about the best survival knives on the market, let me show you my personal top 5 :
1. The Ka-Bar Becker BK2 Campanion Fixed Blade Knife, designed by Ethan Becker (hence its name) is a relatively small survival knife, yet is pretty heavy for its size and almost indestructible. With a 5.25 inches long blade made of 1095 steel and a Grivory handle, this is a very comfortable knife to use that will take any amount of punishment without letting you down. Being very affordable and super heavy duty, the Becker BK2 became an iconic knife, maybe the best survival knife out there in its price range.  < Click here see customers reviews and pricing >
2. My second choice comes also from KA-BAR, it's the legendary KA-BAR Full Size US Marine Corps Fighting Knife, with a straight blade (I'm not a big fan of serrated survival knives). This is maybe the most famous knife in the world, designed to be used by the US military in WW2 and still an awesome knife in many respects 70 years later. With a 7 inches long blade made of 1095 carbon steel, this baby is built to last.  < Click here see customers reviews and pricing >
3. ESEE-6 Plain Black Blade With Grey Removable Lined Micarta Handles 1095 Carbon Steel 57-Rcmade the top 3, being one of my favorite fixed blades ever made. This is a no-nonsense survival knife, built to be used not showcased and has a 6.5 inches long blade with a drop point and a full flat grind. Made of 1095 carbon steel and not very large, it makes for the perfect companion if you're the outdoors type and it's worth every penny.  < Click here see customers reviews and pricing >
4. Here comes the Gerber 22-01463 Coyote Brown LMF II Infantry Knife, a true survival knife : versatile, as solid as it gets and designed to severe seat belts and cut through the aluminum skin of a fuselage. It can also be used for cutting wood or building shelters, making for an awesome survival knife. The blade is made (proudly in the USA) of 420HC stainless steel and the handle is made of glass filled nylon/TPV over mold.  < Click here see customers reviews and pricing >
5. Last but not least, let me show you another great survival knife : the Cold Steel SRK/Kraton Handle. The SRK is a tough knife with a 6 inches long blade (AUS-8A steel) and a Kraton handle, made in Japan and it will absolutely blow your mind when you'll see (and feel) how strong it is! Being currently carried by many in the armed forces, the SRK was designed as a survival and rescue knife. < Click here see customers reviews and pricing >
Qualities to look for in the Best Survival Knife
But, even when you choose a fixed blade survival knife, you must pay attention to a few things though.
First, the knife must be a full tang design, meaning that the blade and the handle are made from the same piece of metal; this makes the knife unbreakable even when it's pushed hard. You should avoid the partial-tang designs, these are prone to failure under stress and they can let you down when you need them the most. (Click image to enlarge)
Also, the handle should be as comfortable in your hand as it's humanly possible (you must choose what is best for you, don't let the vendor decide) and the material used in the handle must be grippy under any circumstances. The best handles are made of G10 (a fiberglass laminate) and Kraton (a rubbery like polymer) . These materials are very durable and they come with  great features : they're never slippery, even when wet, they never rot (like wood or leather) and if you take care of them, they'll last you for a life time.
Another thing to look for when cruising for the best survival knives is a solid pommel on the end of the handle; that's a big plus, a pommel comes handy in various situations, i.e. when hammering/chopping/batoning with the knife.
You should also pay attention to the length and thickness of the blade. The best survival knife has a fat blade, when compared to a regular knife. This means it's a rock solid blade, it will resist to wear and tear and it will not break easily. As for the length of the blade, this is a matter of personal taste. But a versatile survival knife should have at least a 4 inches long blade.
Finally, the best survival knife must be easy to sharpen and hone. That means you have to choose carefully the profile of the edge and also the type of steel the knife is made of. Depending on the steel type and the blade profile, the knife will be easy/difficult to sharpen and it will keep its edge better/worse, depending on the steel quality. Generally speaking, the pricy survival knives are made of high quality materials (read the best steel ), you always get what you pay for.
Obviously, not all survival knives are created equal, so one must choose carefully. You should avoid the very cheap ones and also consider your needs carefully, you don't want to spend a fortune on something that you'll never use, unless you're obsessed with knives (like I do).
Which brings me to the next phase in choosing the best survival knife: what type of knife do you want?
Because , even if the old saying about "the best survival knife is the one you have with you in a hairy situation "still applies, you have quite a few options when it comes to choosing the best survival knife, isn't it?