The best wilderness survival knife is a delicate topic. If you'd have to pick only one, to be your companion in a hairy situation, you'd find yourself in a bit of a confused. With so many options available, it might made your head spin. There's a concept called "living off the land" using only a knife as a primary tool. Well, given the circumstances, this must be the best survival knife, because your life may depend on it.
What makes the great wilderness survival knife?
The best wilderness survival knife must be versatile (you'll be using it for almost everything: dressing game, digging, batoning, chopping), strong and reliable and choosing the right one might be your last line of defense in life threatening situations. Its main qualities are a full tang build i.e. a fixed blade (the thicker the better), high quality materials and workmanship, an ergonomic/grippy handle, a solid pommel and most importantly: the knife must be fairly easy to sharpen/hone.
My top 5 picks for the best wilderness survival knives out there

1. Ontario RTAK II Fixed Blade Knife can be regarded as a combo between a survival knife, a combat knife and a mule. I mean, this baby is as versatile as it gets and it's capable of doing everything thus making for one of the best wilderness survival knives out there. The RTAK is a pretty large knife, with a 10 inches long fixed/full tang blade that comes in two flavors : plain and partially serrated. The steel used in the blade is high quality 1095 carbon steel and the handle is made of canvas Micarta (yes, it does have a pommel), providing a firm and secure grip in any conditions. < Click here for customers reviews and pricing >
2. My second choice is the ESEE-4, another incredibly strong and versatile knife, with a strong and thick blade (3/16" thickness, ) made of the same 1095 carbon steel and a Micarta handle. The ESEE-4 is the "bush" version of the ESEE-3 (tactical) which is immensely popular among knife enthusiasts. The ESEE-4 has a full tang blade, a solid pommel and a full fat grind and despite its thickness and overall ruggedness, it's relatively lightweight and easy to carry around. < Click here for customers reviews and pricing>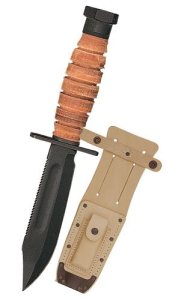 3. This is what the professionals are using when it comes to wilderness survival: the Army and Air Force Issue Survival Knife. This is the end result of years of research and since it's good enough for the Army and the Air Force, it should be good for you too! Made of 1095 carbon steel, with a full tang blade featuring a rust resistant finish (made of zinc phosphate) and a "groovy" leather handle with a solid pommel at its end, this knife can be used for hammering, batoning, carving, chopping, you name it. With a 5 inches long blade, this survival knife makes for a nice EDC and comes with its own sharpening stone. < Click here for customers reviews and pricing>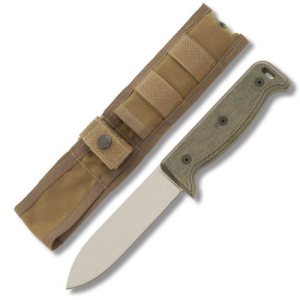 4. My next choice is the Ontario SK-5 Blackbird, an US made knife, a no-nonsense survival knife, born ready for everything! Mark my words, this knife means business: with a "fat" full tang blade made of 154CM high quality stainless steel and a Micarta handle, this survival knife is ideal for splitting wood, carving or dressing game. Its size makes it perfect for detailed tasks, being around 10 inches long overall with a 5 inches of sharpened blade. < Click here for customers reviews and pricing>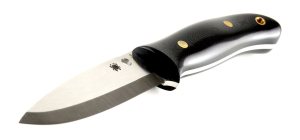 5. My "last but not least" pick comes from one of the most reputable knife manufacturers in the world, best known for their folders: Spyderco Bushcraft G-10. As its name suggests, the G-10 was designed in the good'ol tradition of British bushcraft and the end result is a knife that excels at wood chopping and dressing game. Having a full tang 4 inches long stainless steel blade made of 0-1 tool steel with a Scandinavian grind, the Spyderco Bushcraft G-10 is virtually indestructible and it will serve your for a life time of abuse in the wild. < Click here for customers reviews and pricing>